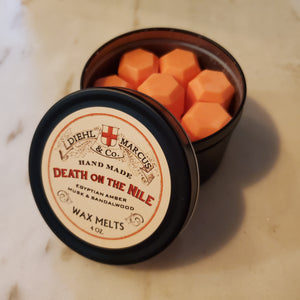 Death on the Nile - Wax Melts
Death on the Nile, embarks one on an epic adventure with this mysterious and complex fragrance. Egyptian Amber will lure you in and entrap you with it's woody fragrance. A light touch of jasmine and ozone gives way to a heart of sandalwood, keeping your gaze. You will be caught up in the luxurious web of bold musk aromas before you know it!
Intoxicating!
But which note has caught you?
What fantastic scent theory have you, Detective?
Shall we call on Poirot?

Note Profile:
Top: Ozone, Jasmine
Middle: Leather, Patchouli, Sandalwood, Tonka Bean
Base: Egyptian Amber, Dark Musk, Light Musk, Powder

2 oz. (57g) Coconut Wax Melts per Tin.

Each Gem within the Tin burns for approximately 8 hrs. so that makes a Total Burn time of 64 hours per Tin!
Place wax melts in a melt approved wax warmer. Use 1-2 melts for a small room and 2 or more for a larger room. Once you can no longer smell the fragrance, allow to cool slightly and gently wipe out the wax.

Please carefully read and follow all safety instructions on wax melt packaging and wax warmer packaging. Keep away from children & pets. Do not leave warmers unattended.
Do not add water. Do not melt on open flame/stovetop.

---
We Also Recommend