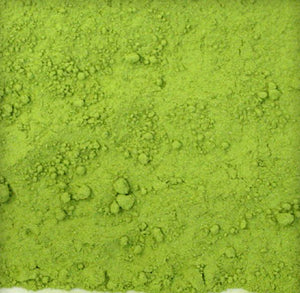 Organic Japanese Matcha
Matcha –
High Quality Japanese Organic Powdered Green Tea used for Tea Ceremonies.
(Origin: Japan)

How to drink: Place 1-2 teaspoons of matcha into a cup (adjust quantity to your taste). Then, add 2 tablespoons of hot water at up to 175F and use a spoon to remove any clumps and mix thoroughly. Enjoy hot or cold. I especially love it with coconut milk!

0.5oz. Serves about 6-7 cups and comes packaged in a DM&CO resealable bag. If you buy this make sure its stored in a dark place as Matcha is light sensitive. 
Our 1 oz. serves about 12-15 cups of tea, depending on your desired strength and arrives in a small DM & Co. flat tin. 2 oz at 24-30 cups
& our 2 oz. and 3oz. comes in a DM & Co. Dome Style Tea Tin and serves about 24-30 and 40-45 cups while also saving you money.


Matcha Milkshakes
Ingredients
1 teaspoon to 1 tablespoon unsweetened matcha*
1-2 scoops vanilla ice cream
Optional: 1 tsp. Vanilla Extract
Instructions
In a small bowl whisk your milk and matcha together. (Tip: If your matcha is lumpy, strain it with a tea strainer).
Pour your "matcha milk" into a jar, add ice cream. Shake or Blend. Let it soften a bit. Stir and enjoy!
---
We Also Recommend