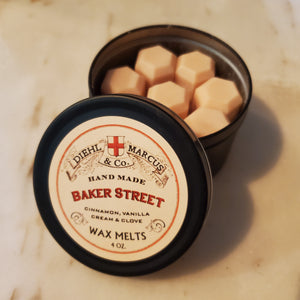 Baker Street - Wax Melts
Baker Street, a scent brought to you straight from the delectable kitchen of Mrs. Hudson, who bakes with the maid in the basement of the infamous 221b Baker Street. Her ritual fills up every vacant space in the two story flat, making its way up to a single large airy sitting room where we can find Dr. Watson drooling over the scent of memory-inducing Cinnamon & Vanilla as Mr. Sherlock Holmes silently delights in the faint scent of Clove & Cream whilst lying on his sofa, smoking his pipe and deducing the scents within the room in anticipation for the sweet reward.
"Holmes, Sweet Holmes."
Note Profile:
Top: Cinnamon, Clove
Middle: Cream
Base: Vanilla

2 oz. (57g) Coconut Wax Melts per Tin.

Each Gem within the Tin burns for approximately 8 hrs. so that makes a Total Burn time of 64 hours per Tin!
Place wax melts in a melt approved wax warmer. Use 1-2 melts for a small room and 2 or more for a larger room. Once you can no longer smell the fragrance, allow to cool slightly and gently wipe out the wax.

Please carefully read and follow all safety instructions on wax melt packaging and wax warmer packaging. Keep away from children & pets. Do not leave warmers unattended.
Do not add water. Do not melt on open flame/stovetop.

---
We Also Recommend