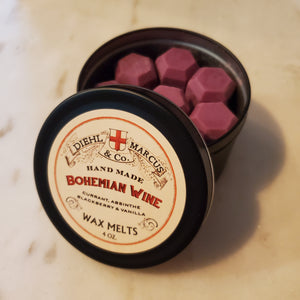 Bohemian Wine - Wax Melts
Bohemian Wine, as unconventional as it's name, it is a decadent and sensual fragrance that we invite you to indulge in. It begins with light traces of apple and delicate saffron threads. It tickles the senses with it's luscious black currants and blackberries, while freeing aromatic conceptions with it's base notes of anise and amber. Surround yourself in this sophisticated cocktail of a scent and you will be ever-so-happy that you did!

Note Profile:
Top: Saffron, Apple
Middle: Black Currant, Blackberry, Vanilla
Base: Anise, Patchouli, Amber
2 oz. (57g) Coconut Wax Melts per Tin.

Each Gem within the Tin burns for approximately 8 hrs. so that makes a Total Burn time of 64 hours per Tin!
Place wax melts in a melt approved wax warmer. Use 1-2 melts for a small room and 2 or more for a larger room. Once you can no longer smell the fragrance, allow to cool slightly and gently wipe out the wax.

Please carefully read and follow all safety instructions on wax melt packaging and wax warmer packaging. Keep away from children & pets. Do not leave warmers unattended.
Do not add water. Do not melt on open flame/stove top.

---
We Also Recommend