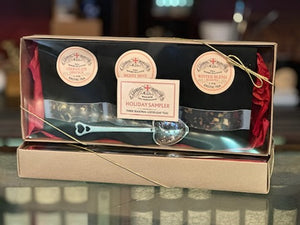 Holiday Sampler - Tea Sampler Set
Holiday Sampler is a delicious way to enjoy dessert for breakfast!
Each Tea Sample box includes 3 of our 1oz resealable Loose Leaf Teas which will offer (15-20 cups per bag) 45-60 cups of tea, depending on the desired strength. It also includes our popular shop bookmark, along with a free heart-shaped Tea Infuser Spoon which is a great, environmentally friendly way to steep tea, while helping measure the perfect amount of tea per cup!
Chocolate Orange (Seasonal)
Our Chocolate Orange Black Tea tastes like those Chocolate Oranges that are popular during the holiday season. This seasonal blend includes Orange Peels and Slices, Chocolate Chips, Lemon Balm, Safflower Petals and all natural Orange and Chocolate flavor. Ingredients: Black Tea, Orange Peel and Natural Orange & Chocolate Flavor with Chocolate Pieces
Origin: India
Water Temp: 200-212f
Steep Time: 3-5 mins
|
Merry Mint (Seasonal)
Get yourself into the Holiday spirit with our seasonal blend of Merry Mint Black Tea! Smooth malty undertones and sweet vanilla flavor is paired with bright, uplifting peppermint leaves creating a joyous cup to help guide you merrily through the season and beyond.
Ingredients: Black Tea, Peppermint Leaves, Stevia Leaves(unprocessed), Cornflower Petals and Natural Vanilla Flavor.
Origin: China & USA
Water Temp: 200-212f
Steep Time: 3-5 mins

Winter Blend (Seasonal)
What better way to enjoy the Winter Season than having a fantastic cup of belly and soul warming tea. With friends and family, it's a blend perfect for this seasons' festive occasions or anytime you'd like to cozy up to a warm cup of cheer to get you through the winter.
Ingredients: Black Tea, Orange Peel, Apple Pieces, Almond Slices, Cinnamon Chips, Rose Petals with Natural Orange and Apple Flavor
Origin: India
Water Temp: 200-212f
Steep Time: 3-5 mins
---
We Also Recommend