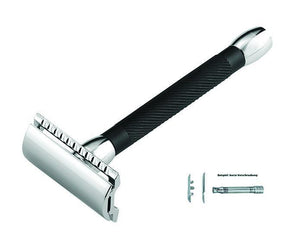 Merkur 20B Double Edge Safety Razor
Merkur 20B Double Edge Safety Razor, Straight Cut, Chrome, Extra Long Black Handle
For a delicate finish, this close comb Merkur Double Edge Safety Razor will provide a pleasant shave. Crafted from superior stainless steel, this razor is meant to last a lifetime and its straight bar will prevent troublesome nicks and bumps for a flawless ending. This well-crafted product includes: 
Three pieces 
Straight bar
Fixed blade
Closed comb
With over a century of experience in the razor fabricating business, Merkur provides an excellent rendition of this classic favourite. With its practical black rubber handle, this razor makes for a firmer grip on a delightful shave.  
Made in Solingen, Germany.
*Comes with one Merkur Razor Blade, wrapped separately.
---
We Also Recommend