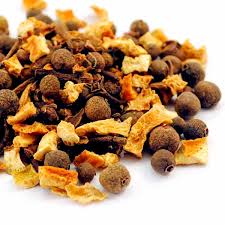 Mulling Spices (Seasonal Item!)
Mulling Spices -
Make your favorite holiday drink even richer with this festive mix of traditional mulling spices. A fragrant infusion sure to fill your home with fruity and spicy aromas.
Brew a big batch of mulled cider or red wine to serve at gatherings or enjoy it on your own, one cup at a time. Our blend includes muslin bags for steeping in a large pot so you are ready right away!

Ingredients: Cinnamon Chips, Whole Clove, All Spice and Orange Peel,.  4-5 Whole Anise is included but kept separate so you may chose to include it (or not).
Origin: USA
Water Temp: 170-212F
Steep Time: 5-20 mins depending on use and size of serving.

1 oz. serves about 12-15 cups of tea, depending on your desired strength and arrives in a resealable DM & Co. bag or 1 1/2-2 Gallons of Mulled Wine or Mulled Cider should you include cider or wine of course!

---
We Also Recommend